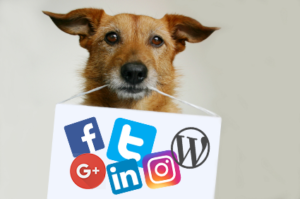 Use your social media account to promote your foster pup, or promote your P4P adoption… it's easy and effective, here's how:
Create an album or select the photos you want to use. Make sure that your photos are well lit. Include a full body shot, a nice facial shot, and photos of your pup both outside and inside.  Add a video of a walk or playing fetch in the back yard.
Make it a story…How are their leash manners? Have they learned any new tricks and/or commands? How are they doing with kids? Do they like cats? Are they living with any foster siblings? An example could be: "Hello, my name is Casey and I'm 16 weeks old (approx. DOB 9-18-18). I'm just a little girl, waiting at my foster home, looking for my forever family to love me. My ideal home would have another dog so that I have a companion. No cats please, as I like to chase them too much. I'm still just a baby so I'm trying hard to remember to do my 'business' outside, but I'm very motivated to learn! I'm pretty active, so I would love long walks or hikes and I love to go for rides in the car. It's so exciting to see where we are going!!! If you think I'm cute, you can fill out the adoption papers at www.passion-4-paws.org."
Remember to include the web page directing them to fill out an application if interested. Make sure it is the correct web page www.passion-4-paws.org.
Always include **PLEASE SHARE** so that your friends know to share it on their pages. Make sure to make the post public so that they are able to share it widely.
If you are sharing your photos to Instagram or Facebook, you can include hashtags. Here is a fun list of hashtags you can use: #rescuedog #dogsofinstagram #adoptdontshop #rescuedogsofinstagram #rescue #instadog #puppy #love #pitbull #adopt #muttsofinstagram #ilovemydog #shelterdogs #mixedbreed #labmix #rescuedismyfavoritebreed #dogoftheday #mutt #shelter #adoptdontshop #adopt #adoptionislove #openadoption #adoptionjourney #fostercare #foster #hopetoadopt #fostertoadopt
It's that simple! If you need help the foster team is always here for you!