On a cold and wet December day, we met Casey.
A sweet,big eyed,caramel colored little 3 month old puppy. She was a bit shy and reserved,but when we got her home she quickly made friends with her foster brother Finley. Since we brought her home during the holidays I stayed home while she transitioned. After the holidays I unfortunately had to head back to work, so during the day Casey spends her time at my parents home where she has good company and loves being with their big pup,Sheldon a sweet golden retriever.
For the first few ,Casey was not very interested in much besides food and other dogs. We attended a few adoption events but unfortunately did not find her forever home. With the time spent with my parents, they noticed she never responded to her name,clapping or any loud noises. She also started to limp slightly on a hind legs. So off to the vet. After a few hearing test and an orthopedic exam it was determined she is hearing impaired, she has severe luxating patella's and a large amount of fluid build up on all her joints.
In the next few days Casey underwent a joint tap and x-rays. The results of the joint tap showed abnormal cells. The vets though she could have immune mediated poly arthritis so she started high doses of Prednisone. She improved slightly and some of the swelling seemed to go down but she continued to have severe mobility issues. The next step was a consult with an orthopedic specialist.
Robin and I met with the orthopedic specialist. At his advice we weaned her off the Prednisone so we could repeat a joint tap to completely rule out poly arthritis and new xrays because she had grown since the last. Casey weaned off the Prednisone which was giving her what seemed to be the only relief she had for accurate testing.  At times she would bite and chew her legs as if she was trying to stop the pain and discomfort. She was prescribed gabapentin to help with that and CBD oil for inflammation. It was heartbreaking to see her go downhill so quickly. It was so painful to watch her knees pop in and out. She seemed to age from a young dog to a senior in weeks.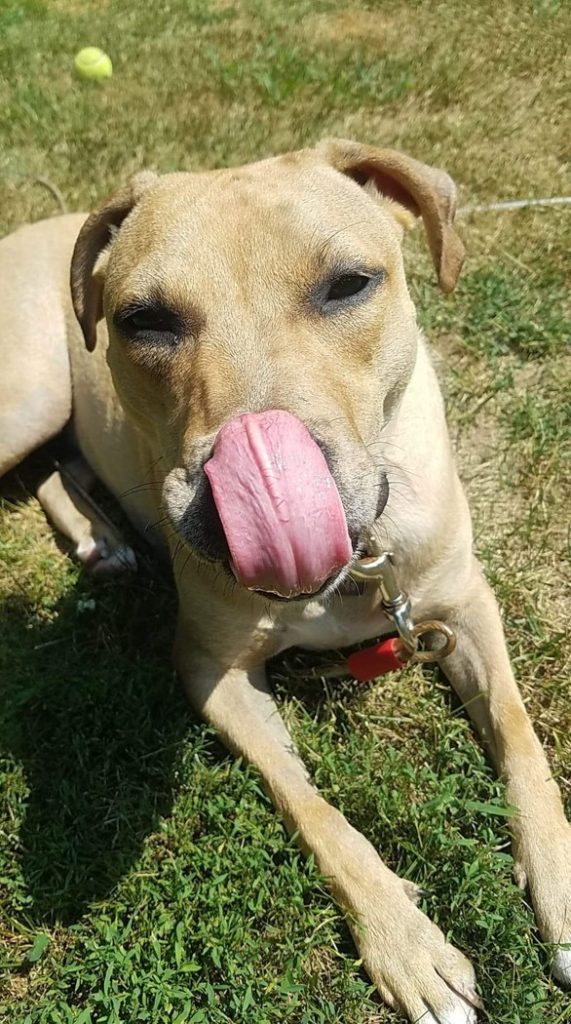 The results of the tests were overwhelming.  They showed elbows dysplasia with abnormal degeneration to her elbow joints and grade 3-4 luxating patella's. At 10 months old,Casey needs orthopedic surgery on both elbows and knees if she is ever to live a pain free life. She has so much life ahead of her and love to give. The love and trust she bestows on people and dogs is just amazing.  Despite the hand she was dealt she tries so hard to be a happy dog and make moments to play and get into mischief as puppies do!
This sweet girl deserves to live pain free with joints to keep up with her boisterous personality. To fun, full speed ahead is her dream… as she seems to always be dreaming of running (judging by the way those legs move in her sleep).
Please visit Casey's GoFundMe Page if you would like to donate towards her care or participate in our Empties 4 Casey: Summer Bottle Drive.